Our History
---
Our team of highly skilled tradesmen includes specialists in machining, carbon steel fabrication and stainless steel fabrication. Industry-specific knowledge is also a key aspect of our service offering. Whether you are requiring basic machinery refurbishment, onsite maintenance services or a complete design and build solution, we have someone on our team who can assist.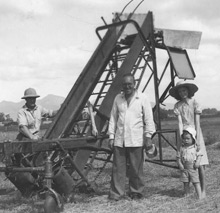 Cullen Engineering was established in 1953. The Company is owned and managed by Richard Cullen (Managing Director) and Matthew Harris (Operations Director). Both Richard and Matthew have been with the company for over 20 years.
Over the past 65 years our business has expanded considerably. We serve a variety of market sectors, including the meat, poultry, dairy, utilities and construction industries in the following specialist areas –
Structural, Architectural & Miscellaneous Steelworks
Stainless & Aluminium Fabrication
Design & Detailing
Laser Cutting (Tube & Plate)
Waterjet Cutting
CNC Press Brake Folding
CNC Machining
Our two sites are located in close proximity to several of the North Island's major cities – Auckland, Hamilton, Tauranga and Rotorua.
Despite many changes over the years Cullen Engineering still remains  a family run business and maintains those core values in all aspects of its operation.