Our History
---
Our team of highly skilled tradesmen includes specialists in machining, carbon steel fabrication and stainless steel fabrication. Industry-specific knowledge is also a key aspect of our service offering. Whether you are requiring basic machinery refurbishment, onsite maintenance services or a complete design and build solution, we have someone on our team who can assist.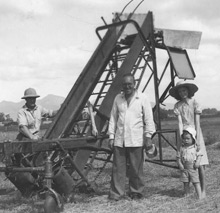 Cullen Engineering was established in 1953. The Company is owned and managed by Richard Cullen (Managing Director) and Michael Harris (Operations Director). Richard has been with the company for over 10 years and is a third generation Director. Michael has been with Cullen Engineering since 1969 and became a partner in 1992 he has served the company tirelessly for over 40 years.
Over the past 60 years our business has expanded considerably. We now undertake a broad range of general and precision engineering work across a variety of market sectors, including the meat, poultry, dairy, transport and construction industries. Our clients are spread throughout New Zealand, Australia and the Pacific. Many of these clients are long-standing.
Our 6400 sq metre site is located in close proximity to several of the North Island's major cities – Auckland, Hamilton, Tauranga and Rotorua.
Despite many changes over the years Cullen Engineering still remains very much a family run business and maintains those core values in all aspects of its operation.